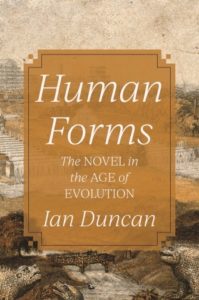 Human Forms
The Novel in the Age of Evolution
by Ian Duncan
A major rethinking of the European novel and its relationship to early evolutionary science
The 120 years between Henry Fielding's Tom Jones (1749) and George Eliot's Middlemarch (1871) marked both the rise of the novel and the shift from the presumption of a stable, universal human nature to one that changes over time. In Human Forms, Ian Duncan reorients our understanding of the novel's formation during its cultural ascendancy, arguing that fiction produced new knowledge in a period characterized by the interplay between literary and scientific discourses—even as the two were separating into distinct domains.
Duncan focuses on several crisis points: the contentious formation of a natural history of the human species in the late Enlightenment; the emergence of new genres such as the Romantic bildungsroman; historical novels by Walter Scott and Victor Hugo that confronted the dissolution of the idea of a fixed human nature; Charles Dickens's transformist aesthetic and its challenge to Victorian realism; and George Eliot's reckoning with the nineteenth-century revolutions in the human and natural sciences. Modeling the modern scientific conception of a developmental human nature, the novel became a major experimental instrument for managing the new set of divisions—between nature and history, individual and species, human and biological life—that replaced the ancient schism between animal body and immortal soul.
The first book to explore the interaction of European fiction with "the natural history of man" from the late Enlightenment through the mid-Victorian era, Human Forms sets a new standard for work on natural history and the novel.
Part of the book's chapter 5, "George Eliot's Science Fiction," was first published in Representations 125.
Ian Duncan is professor and Florence Green Bixby Chair in English at the University of California, Berkeley, and a member of the Representations editorial board. His books include Scott's Shadow: The Novel in Romantic Edinburgh (Princeton).