by Corey Byrnes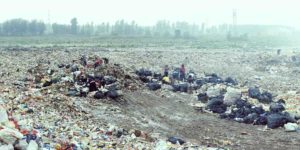 Beijing Besieged by Waste, directed by Wang Jiuliang (New York, 2011), DVD. Image courtesy the artist.
The essay begins:
In his 2011 novel The Man with the Compound Eyes (Fuyan ren 複眼人), the Taiwanese novelist Wu Ming-Yi吳明益 imagines a scenario in which the Great Pacific Garbage Patch breaks free from the ocean gyre that keeps it out of sight, sending a solid mass of trash on a collision course with the east coast of Taiwan. The arrival of the trash island coincides with coastal subsidence and a tsunami-like rise in sea levels that inundates large portions of the coast and covers what remains in trash. When one of the characters travels down the coast highway past a famous scenic site, the Clearwater Cliffs, she is confronted with a troubling scene:
The sea was battering the base of the soaring bluffs with various kinds of debris. Hordes of tourists were issuing continual exclamations of amazement as they admired the magnificent view from inside their cars. Sara was more than a little shaken by the scene. The cliff itself was glorious, but she couldn't get over how these tourists seemed not to see [sihu wushi 似乎無視] the sorry state the coast was in, regarding it as a wondrous scene to admire [qijing lai guanshang奇景來觀賞]. . . .
She had been on this island for two days, and only had brief impressions of the place, but she'd already noticed that the islanders were inured to breathing this air and were now trying to get used to the sight of this sea. The pristine Pacific Ocean as she had seen it in so many images had now vanished.
Sara, a Norwegian marine biologist, is shocked by the apathy of Taiwanese tourists who look at the "magnificent view from inside their cars," ignoring the acrid smell rising from the trash-choked ocean. They look, but they seem not to see. It is only by looking with Sara that we see the coast for what it is—a landscape of wonder become a landscape of desolation.
This episode exemplifies the ambiguous relationship between two ways of looking that are central to what I call the landscape of desolation. The first is grounded in preconceived notions of nature, beauty, and the sublime. The second exposes the exhaustion of the physical world while also demonstrating how inherited landscape notions can inspire a blindness generated by a refusal to see despite a strong desire to look. If landscape is "a way of seeing the world," as Denis Cosgrove put it, Wu reminds us that it is also a way of not seeing, a habit of looking detached from seeing and thinking. To look with the scientist Sara, it seems, is to see past the "many images" of a pristine Pacific Ocean. Yet even in this moment of discernment, we cannot quite leave behind the aesthetics of landscape and the ideas it conveys. The language of glory and magnificence remind us that the power of this scene comes not from the complete obliteration of the coast, but rather from a diminution of its natural beauty that is contingent on both the survival of a sense of that beauty and also the tenaciousness of not fully exhausted ways of looking.
Wu's novel suggests that if you look long and hard enough you might recognize the material and affective ties that bind humans, nonhumans, and objects to one another as well as the habits of looking that so often obscure those ties. It is to the conflicted relationship between new ways of looking and the tenacious pull of untenable habits and seemingly exhausted traditions that this essay attends. As a "magnificent" but trashed landscape, the Clearwater Cliffs exemplify the epistemological and ontological confusion generated by climate change and environmental degradation. How are we to understand a world grown strange? What happens when the natural features we expect to find in familiar landscapes are no longer there, replaced instead by our waste? Are the categories and representational techniques that we have long used to describe the world adaptable to our current unstable conditions?
In their attempts to answer these and related questions, scholars have produced what can sometimes seem like an Anthropocene industry, dedicated in part to cataloging the artistic techniques that have evolved to address climate change and in part to advocating for particular forms they see as most effective in making it thinkable. While most agree that we need to harness the descriptive, persuasive, and imaginative capacity of writing and the arts to change not only how we see the world but also how we act in it, there is no consensus on how to achieve this goal. Amitav Ghosh sees the scalar flexibility of premodern epics and non-Western prose forms as offering alternatives to the modern realist novel. For Stephanie LeMenager and Stephanie Foote, what we need is a new narrative "critical realism" that makes visible "the multiscalar effects of global capitalism." T. J. Demos has argued against the Anthropocene as a "universalizing discourse" that "disavow[s] differentiated responsibility" and "anesthetizes politics" in favor of an activist aesthetics that "politicize[s] art's relation to ecology." Prasenjit Duara has promoted "Asian traditions" more broadly as offering possible conceptual and practical solutions to environmental crises, and both ecocritics and the mainland Chinese government have advocated a return to the supposedly ancient ecological grounding of Chinese culture as a way of creating a new "ecological civilization" (shengtai wenming 生態文明).
In all of these approaches—and this is only a small sample—the underlying assumption is that cultural forms are capable not only of communicating information about the environment but also of moving viewers and readers affectively and, perhaps, to some sort of action, or at least to a change in consciousness that makes action easier. If we take landscape representation as an active "cultural practice" already centered on the relationship between humans and their environments and potentially capable of fostering ecological thought and action, then it appears to be an ideal ecocritical mode. But can we say with any certainty what an ecocritical landscape mode can or must do? Is "landscape," an impossibly broad term that encompasses multiple disparate traditions, functions, histories, and media—many of which have contributed directly to our current environmental crises—actually capable of representing and responding to those crises, the worst of which are so often defined by their "unthinkability"? Continue reading …
In this essay Corey Byrnes explores how landscape forms are used by writers, photographers, filmmakers, and other artists from inside and outside of China to represent environmental problems in that country. It considers the "landscape of desolation" as an ecocritical mode designed to change how people see and act in the world in relation to both the shifting status of "Chinese tradition" and to earlier moments in Euro-American landscape art, particularly the so-called New Topographics Movement of the 1970s.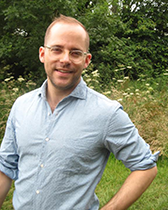 COREY BYRNES is Assistant Professor of Modern Chinese Culture at Northwestern University. His first book, Fixing Landscape: A Techno-Poetic History of China's Three Gorges, was published by Columbia University Press in 2018.