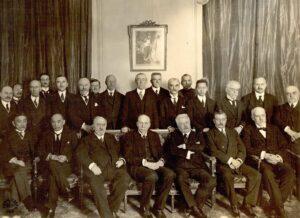 "…For Keynes, hands are not only something to see or to look at. Hands are also something for which the seeing is, in and of itself, significant."
Kent Puckett is a long-time member of the Representations editorial board and the author of War Pictures: Cinema, Violence, and Style in Britain, 1939-1945 and other books. His "Rand Narratology" appeared in our Winter 2020 issue.
Image: Members of the Commission of the League of Nations created by the Plenary Session of the Preliminary Peace Conference, Paris, France, 1919. Wikimedia Commons.