Panel Discussion | April 1 | 2-4 p.m. | 159 Mulford Hall, UC Berkeley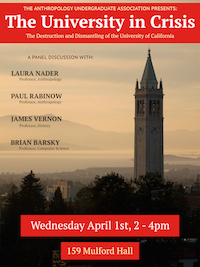 The Berkeley Anthropology Undergraduate Association presents a critical  discussion of ongoing University of California issues such as budget, salary, and funding transparency and negotiations; student protests and administrative response; corporate and private interest involvement on campus; faculty, employee, and student unions'/associations' interests; curriculum standards and canons of knowledge; and academic freedom.
Laura Nader, Professor, Department of Anthropology; Paul Rabinow, Professor, Department of Anthropology; Brian Barsky, Professor, Department of Electrical Engineering and Computer Sciences; James Vernon, Professor, Department of History.
James Vernon, with Colleen Lye and Christopher Newfield, edited the 2011 Representations special issue The Humanities and the Crisis of the Public University.