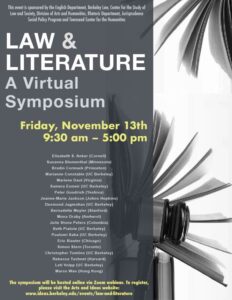 Join UC Berkeley's English Department, School of Law, Center for the Study of Law and Society, Division of Arts and Humanities, Rhetoric Department, Jurisprudence Social Policy Program, and Townsend Center for the Humanities for a virtual symposium on the intersections between law and literature.
Register here to receive a personalized Zoom link to join the webinar.
Participants include Representations authors Marianne Constable and Julie Stone Peters and Representations editorial board member Samera Esmeir.
SCHEDULE:
9:30 – 11:00 am
Peter Goodrich (Yeshiva)
Bernadette Meyler (Stanford)
Julie Stone Peters (Columbia)
Marco Wan (Hong Kong)
Chair: Marianne Constable (UC Berkeley)
11:15 am – 12:45 pm
Elizabeth S. Anker (Cornell)
Poulomi Saha (UC Berkeley)
Jeanne-Marie Jackson (Johns Hopkins)
Mona Oraby (Amherst)
Chair: Leti Volpp (UC Berkeley)
1:45 pm – 3:15 pm
Susanna Blumenthal (Minnesota)
Bradin Cormack (Princeton)
Simon Stern (Toronto)
Rebecca Tushnet (Harvard)
Chair: Christopher Tomlins (UC Berkeley)
3:30 – 5:00 pm
Marlene Daut (Virginia)
Desmond Jagmohan (UC Berkeley)
Beth Piatote (UC Berkeley)
Eric Slauter (Chicago)
Chair: Samera Esmeir (UC Berkeley)