What Does Free Indirect Discourse Mean Now?
a roundtable discussion
220 Stephens Hall, UC Berkeley
TUESDAY, NOVEMBER 29
5:00 PM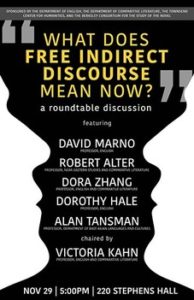 Roundtable participants are UCB faculty Robert Alter (Near Eastern Studies and Comparative Literature), Dorothy Hale (English), David Marno (English), Alan Tansman (East Asian Languages and Culture), and Dora Zhang (Comparative Literature and English). Moderator: Victoria Kahn (Comparative Literature and English).
Alan Tansman is a member and former co-chair of the Representations editorial board. In addition to contributing several essays to the journal, Victoria Kahn has also edited two special issues for us: Early Modern Secularism (Winter 2009, no. 105) and Mimesis East and West (Spring 2006, no. 94). Dora Zhang's "A Lens for an Eye: Photography and Proust" was published in Representations 118 (Spring 2012).