a new study from Dora Zhang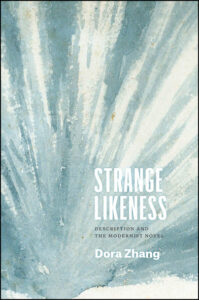 The modern novel, so the story goes, thinks poorly of mere description—what Virginia Woolf called "that ugly, that clumsy, that incongruous tool." As a result, critics have largely neglected description as a feature of novelistic innovation during the twentieth century. Dora Zhang argues that descriptive practices were in fact a crucial site of attention and experimentation for a number of early modernist writers, centrally Woolf, Henry James, and Marcel Proust.
Description is the novelistic technique charged with establishing a common world, but in the early twentieth century, there was little agreement about how a common world could be known and represented. Zhang argues that the protagonists in her study responded by shifting description away from visualizing objects to revealing relations—social, formal, and experiential—between disparate phenomena. In addition to shedding new light on some of the best-known works of modernism, Zhang opens up new ways of thinking about description more broadly. She moves us beyond the classic binary of narrate-or-describe and reinvigorates our thinking about the novel. Strange Likeness will enliven conversations around narrative theory, affect theory, philosophy and literature, and reading practices in the academy.
DORA ZHANG is Associate Professor of English at UC Berkeley. Her essay "A Lens for an Eye: Proust and Photography" was published in Representations 118.