In recognition of the speed at which the world and its histories are changing, we've just posted an advance version of "Selma and the Place of Fiction in Historical Films" by Jeffrey Knapp. The essay will appear in print and online in our Winter 2019 issue, but you can read it here right now.
In the essay, Knapp compares the place of historical fictionality in William Wyler's 1940 film The Westerner and Ava DuVernay's 2014 Selma.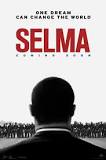 "'This isn't right,'" the essay begins, in the voice of Martin Luther King as depicted by David Oyelowo, in Selma. "Almost as soon as the man resembling Martin Luther King Jr. has begun to speak, he interrupts himself in frustration. 'I accept this honor,' he'd been saying, 'for our lost ones, whose deaths pave our path, and for the twenty million Negro men and women motivated by dignity and a disdain for hopelessness.' What does he think isn't right? Is it the racial oppression he has been evoking? Or is it the felt inadequacy of his words to that injustice? As the man turns away from us, we find that he has been speaking into a mirror, and that he is frustrated in the immediate context by his efforts at getting dressed. 'Corrie' — it is King, we now understand, and he's not alone; his wife Coretta is with him — 'this ain't right.' 'What's that?' she asks, entering from another room. 'This necktie. It's not right.' 'It's not a necktie,' she corrects him, 'it's an ascot.' 'Yeah, but generally, the same principles should apply, shouldn't they? It's not right.'" Read full article …
JEFFREY KNAPP is the Eggers Professor of English at UC Berkeley and author of An Empire Nowhere: England and America from Utopia to The Tempest (1992); Shakespeare's Tribe: Church, Nation, and Theater in Renaissance England (2002); Shakespeare Only (2009); and Pleasing Everyone: Mass Entertainment in Renaissance London and Golden-Age Hollywood, published this year by Oxford University Press. He is also a contributing editor for Representations.