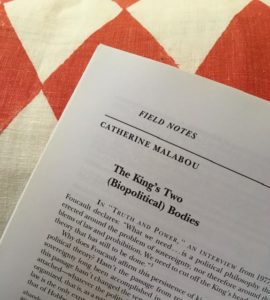 If, as Foucault wrote, "we need to cut off the king's head," our further task, according to French philosopher Catherine Malabou in a 2014 essay, is to "situate the point where biology and history, the living subject and the political subject, meet or touch."
Read Malabou's short essay in Representations 127 now, and look forward to more on the King's Two Bodies concept in Lorna Hutson's "On the Knees of the Body Politic," forthcoming in Representations 151, available in August.
Catherine Malabou is Professor of Philosophy at the European Graduate School/EGS and Professor of Modern European Philosophy at the Centre for Research in Modern European Philosophy (CRMEP) at Kingston University, London. .