Techniques of Memory
Landscape, Iconoclasm, Medium and Power
April 17-18, 2019
David Brower Center, Berkeley, CA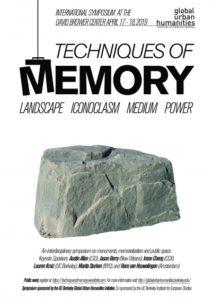 The foundational literature on memorialization, which includes classics such as Pierre Nora's Lieux de Memoire, James Young's The Texture of Memory, Andreas Huyssen's Twilight Memories, dealt with a historical phenomenon rooted in the 80s and heightened by anxieties about the new millennium. Nearly three decades later it seems pressing to reassess the role that memory and its physical manifestations –memorials, monuments, plaques, calendars, photographs– play in our contemporary world. The 2019 Global Urban Humanities conference, Techniques of Memory, invites scholars, practitioners, artists, architects, and activists to come together to analyze memorialization as a historical phenomenon, discuss the contemporary role of memorials, and examine the changing role of memory in diverse geographical areas and historical periods.
Techniques of Memory: Landscape, Iconoclasm, Medium and Power is a two-day symposium organized by the Global Urban Humanities Initiative at UC Berkeley, from April 17th to 18th 2019 at the David Brower Center in Downtown Berkeley. Following the principles of the Global Urban Humanities Initiative, our symposium seeks to bring together not only scholars, but practitioners, activists and artists to think about monuments, memorial landscapes, iconoclasm, mediums and materiality, as well as memory politics and power from the unique interdisciplinary standpoint that this platform provides.
Memory and memorials have been long-standing concerns for Representations, beginning with our 1989 publication in English of Pierre Nora's theoretical introduction to Les Lieux de Memoire. Special issues on these topics include Memory and Counter-Memory, Grounds for Remembering and Monumental Histories, the last of which includes symposium keynote speaker Marita Sturken's  "The Wall, The Screen, and the Image: The Vietnam Veterans Memorial."