Michael Lucey, Professor of French and Comparative Literature at UC Berkeley and member of the Representations editorial board, will participate in a conversation with Rita Felski, William R. Kenan Professor of English at the University of Virginia and editor of New Literary History, on "Attachment Theory," following Felski's lecture on the topic.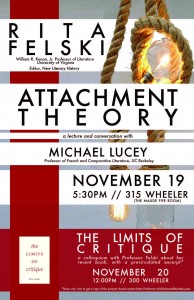 The event will take place on Thursday, November 19 at 5:30 p.m., in the Maude Fife Room (315 Wheeler Hall) at UC Berkeley.
Felski will also participate in a colloquium the following day on her recent book, The Limits of Critique, which engages in ongoing debates about modes of reading in which Representations has been central (see Representations 108, "The Way We Read Now" [Fall 2009]). The colloquium will take place in 300 Wheeler Hall on Friday, November 20 from 12-2 p.m.