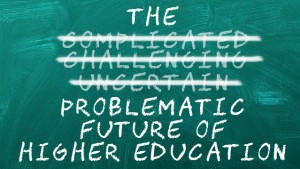 The Center for Public Scholarship at The New School for Social Research presents The Problematic Future of Higher Education, a discussion on the ways in which higher education is changing with the demand for outcome-based education, the shift to MOOCs, and the challenging financial landscape students and universities face. The panel discussants include David Bromwich (Sterling Professor of English, Yale University), Andrew Delbanco (Alexander Hamilton Professor of American Studies, Columbia University), Richard Kahlenberg (Senior Fellow, Century Foundation), and Marina Warner (Professor of English and Creative Writing, Birkbeck, University of London). The discussion will be moderated by Kenneth Prewitt (Carnegie Professor of Public Affairs, School of International and Public Affair, Columbia University).
The free event will take place on October 13, from 6:15–8:15 pm, at The New School, 55 West 13th Street, New York, NY, in the Theresa Lang Community and Student Center, 2nd Floor.
A related discussion can be found in the Representations special issue, "The Humanities and the Crisis of The Public University" (116, Fall 2011).